WOMEN LEFT BEHIND - EGYPT
A religious Egyptian couple posing in front of a street paining in Cairo park located close to Tahrir square and Kasr Al Nile Bridge, where revolution against the previous regime started in 2011. During the year that followed, the Muslim Brotherhood, party which came to power, did everything they could to prevent gender equality and bring back the deep islamisation of the country.Among other plans their political agenda included: lowering the minimum age for marriage from 18 to 12, abolishing women's right to divorce and decriminalizing the practice of female genital mutilation.After Abdel Fattah El-Sisi become president some of those laws were changed but the budget for sexual education and family planning was lowered and several collaborations with international organisations were suspended. December 2018, Cairo, Egypt
When Pacnuji first found out she was pregnant, she felt happy about it and of being so fertile. However, she quickly realized that she cannot keep the baby.A few weeks later her current boyfriend got some pills that she took for several days before starting bleeding excessively. She never knew where the pills came from.The bleeding was so disturbing that she had to change her hygienic pad during every work break, clean her chair from blood stains and put a towel that absorbed blood under her bottom when she was driving a car. She felt exhausted and week and finally went to a doctor only to discover that the remains of the foetus remained inside and can cause an overall body infection if they are not removed immediately. She had to pay 1500 EGP, half of her monthly salary for the procedure.After the abortion she had terrible mood swings and for several years she was unable to find balance again. November 2018, Maadi, Egypt
Wealthy Egyptian youth during a closed party in downtown Cairo during the day of the 7th anniversary of Egyptian 2011 revolution. Even if the revolution did not improve the political situation of the country, for the youth it has begun the social and moral change. Since, more and more women started resisting what they consider unjust traditions; taking off their veils, dressing differently, going out and even living alone before marriage. January 2019, Cairo, Egypt
Sohaila comes from a pious family. Her father is an Islamic sheik, her mother wears a niqab, and she was forced to wear a hijab since her first menstruation. She started resisting at an early age which caused her to be locked in a house for several months when she refused to wear a veil. She ran away from her family at the age of 21, during her first year of college. Her boyfriend dumped her because of her behaviour, and she was only helped by her girlfriends. She started working in the feminism field and a few years later together with a few friends established a Facebook page called FemiHub. It is a platform that helps single women who decide to run away from violence and abuse to start new lives and survive alone. From her experience she knows how important it is to be prepared, have money and know people, as in Egypt no one else will help a single woman who wants to live free and alone. January 2019, Cairo, Egypt
Together with her family, Gehad (25) poses for a traditional photo session on a bridge on Nile just after her wedding ceremony. In the life of Egyptian women, a wedding day is still considered a crucial moment of passage. Brides virginity, and in some social classes also circumcision, are necessary for finding a wealthy and appropriate husband. Large number of marriages are still arranged by the families and a future husband, often much older than his wife, is demanded to pay a price for a bride to her family and provide a place where they are going to live together after the ceremony.Women are expected to get pregnant as soon as even 2 months after the ceremony. Lack of pregnancy can lead to a divorce or give the husband permission to remarry. January 2019, Cairo, Egypt
Mozn Hassan first established Nazra for Feminist Studies in 2005. The main aim of the organisation was to provide victims of sexual violence with legal, medical, and therapeutic help. Because of their activities, Hassan is under travel ban since May 2016, her personal assets and those of the organisation have been frozen by the authorities and their office had to be closed. Nevertheless, volunteers continue to act as they meet in private apartments. In 2016 Mozn and Nazra received the Right Livelihood Award, widely known as the alternative "Nobel Peace Prize" for asserting the equality and rights of women in circumstances where they are subject to ongoing violence, abuse and discrimination. January 2019, Cairo, Egypt
Mariam (29) came from Sudan 4 years ago after divorcing her abusive partner. She used to work as a henna painter at the tourist market, lost her work 3 months ago and was raped soon after at her workplace. She discovered that she got pregnant during a visit at a local NGO that help refugee women and victims of sexual violence. Even after hearing terrible stories about refugee women, whose internal organs were stolen during visits in Cairo's public hospitals and being extremely afraid of going to a hospital herself, she was looking forward to having the procedure. December 2018, Cairo, Egypt
Azza Soliman is a lawyer, women's rights defender, and a cofounder of Centre for Egyptian Women's Legal Assistance (CEWLA). Her personal and professional assets were frozen, she is under a travel ban, has been arrested and interrogated several times under the current regime, is considered a national security threat, and faces time in prison. Her organisation focuses on helping victims of sexual and domestic violence in finding legal help, financial support, official papers for the children born outside of marriage, and legal divorce which is particularly difficult to obtain for a woman. If a man no longer wishes to be married, he can verbally demand a divorce and it becomes legally binding if he registers his decision within 30 days. A woman however has to list 5 reasons for divorce, file a case in court, pay for it and sometimes wait for years before a judge provides a decision. January 2019, Cairo, Egypt
New Women Foundation, active since 1984, is probably the oldest feminist organisation in Egypt. It is also the only one that decided to include the change of the abortion law in a draft amendment of the Unified and comprehensive law to compete violence against women, which was presented to the parliament in the end of 2018. In the recent years the funding for the foundation diminished because of the pressure from the authorities.They were forced to cancel several ongoing programmes and research and their office is mostly empty.The employees are asked to work mainly from home, both for their safety and financial reasons. If nothing changes, the organisation will have to close the office where they were operating for almost 40 years. January 2019, Cairo, Egypt
The first time Asmaa (31) got pregnant, her husband, convinced that the baby will be a girl, refused to provide her medicine supposed to help her keep the pregnancy. Her baby boy was stillborn in the 5th month.The second time she gave birth to a healthy daughter with whom she ran away from her abusive partner.The third time she got pregnant with her second husband, who did not want to have children and ordered her to go through an abortion. He divorced her so that if she decided to continue the pregnancy, the baby would not be his responsibility and would be treated as bastard. In November 2018 Asmaa took abortion pills that she stole from a hospital where she works.At home she pretended to have a food poisoning and when the foetus finally came out on the floor she put it in a bag in order to show it to her partner.When she came to his apartment with the bag and saw him crying was the first time, she felt strong.This was the last time that they have seen each other. January 2019, Cairo, Egypt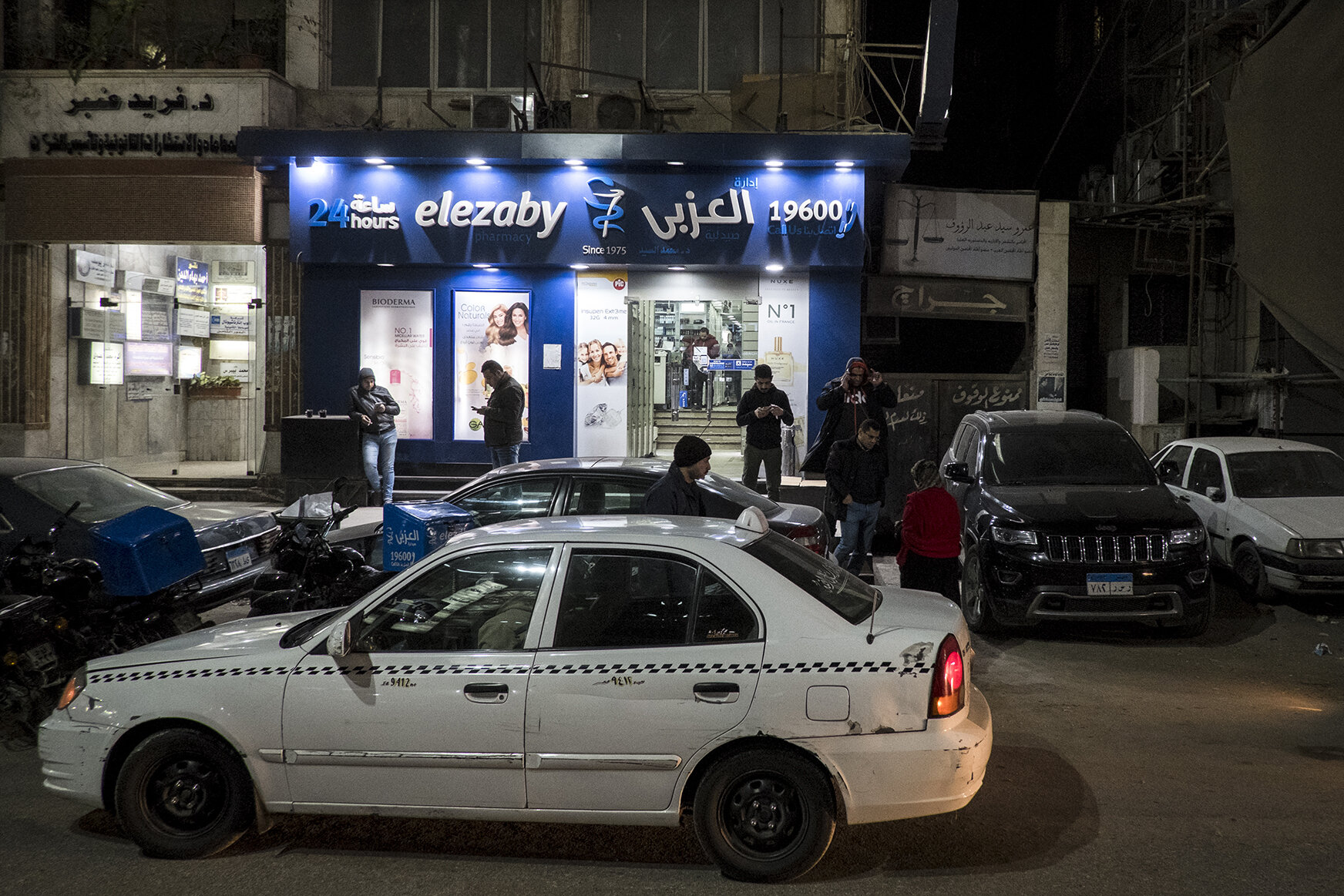 The medicine of Cytotec, originally used to treat stomach ulcers is used mainly for provoking miscarriages. Majority of doctors ask women to take it and come for the curettage when they are already bleeding.The medicine is extremely difficult to find as pharmacies, aware of the probable purpose of its use do not agree to sell it even though it is legally permitted over the counter.Women would never buy it from a pharmacy in their area and they sometimes spend weeks before they manage to find the pill. January 2019, Cairo, Egypt
G. is a well known for his liberal opinions gynaecologist in Cairo. His office is always full of women, who, regardless of their martial status, come to him for check ups and help. He performs about 8 to 10 abortions per week. Most of his patients come from the upper class but he also helps his feminist friends and collaborates closely with various local groups, which provide support to the victims of sexual violence. December 2018, Cairo, Egypt
Wala (39) never wanted to have kids. She panicked when she learned that she got pregnant. Although she comes from a wealthy, highly educated family and she lives abroad, she could never tell her family about the situation. Her mother would definitely demand her to keep the baby, as in the Egyptian culture every child comes with good fortune and abortion can provoke Allah's anger towards the family. December 2018, Cairo, Egypt
Gihzin (43) got married at the age of 20 on the request of her family. She abandoned her studies, never worked and as her husband required, she had 4 children with him. Just before her last daughter was born, her husband abandoned her and got married again with a younger woman. Gihzin moved in with them, but was regularly maltreated by the couple. She therefore moved back to her mother where she stays in a small room together with her four kids. December 2018, Cairo, Egypt
Alphabet and literacy classes are provided for girls from 7 to 19 years old who, due to the lack of legal birth certificate, couldn't attend school. In the permanent shelter of Banati Foundation, that helps street girls and single mothers to find a better future since 2010, among 220 kids, 35 still do not have legal papers. Some of them come from the second or third generation living in the streets, some were abandoned by their families and some, as they were born outside of married relationships, couldn't be legally registered. December 2018, Haram City, Egypt
Orphanages in Egypt are full of unwanted and abandoned kids.This private organisation is one of the most comfortable and keeps legal papers for some of the abandoned kids. In recent years numerous cases of public and private orphanages, where kids are being mistreated or even tortured, were brought to the public opinion onYouTube and various social media.Those cases usually finish in court and lead toward the closing of the orphanage in question. However, as adoption is not legal in Egypt, the kids are placed in yet another overcrowded establishment or end up on the streets. January 2019, Alexandria, Egypt
Al-Azhar is the most prestigious Muslim university in the whole Sunni Islamic world, it is also considered the most important organ of Islamic wisdom and the establishment that provides fatwa's (rulings) on unclear issues, such as abortion. If asked about, most scholars will agree that if agreed by the medical practitioner, for a married woman who already has at least one child, abortion is permitted till the 40 day, some will extend the time to 120 days, the moment when according to muslim religious belief, a soul is entering the body. December 2018, Haram City, Egypt
Men during the most important Friday midday prayer at the Masjid Al Hakim mosque in Islamic Cairo. In Egypt 90% of the population is declared as Muslims, since 1980 Islam is recognized as the official religion and according to the country's constitution,"the principles of Islam Sharia are the principle source of legislation". January 2019, Cairo, Egypt
Egypt has now more than 104 million people and a baby is born every 15 seconds in the country. Government considers overpopulation as one of the main reasons of the countries economical crisis and is not sparing means to fight against the situation.The "Two is Enough" programme established last year aims to encourage families to have less children. According to the prime minister, Mostafa Madbouly, since the beginning of 2019, the government will soon cease to provide support to a family after their second child. December 2018, Cairo, Egypt
Population Council, a foreign funded NGO is organising regular family planning training for married and unmarried youth from Sohag region.The place is one of the poorest in Upper Egypt where gender equality rates are placed among the lowest in the country.The training is based on the "peer method" where previously trained young member of the local communities shares their knowledge with others.As the unemployment rates are particularly high, the livelihood component, including information about writing a CV or going through a job interview, were added to the curriculum in order to encourage men to participate. December 2018, Sohag, Egypt
Even among mothers and married women knowledge about basic names and functions of female and male genital organs is very low. During the 5 days training, the participants learn about reproductive biology, menstruation cycle, contraceptive methods, pregnancy, female circumcision, sexually transmittable diseases but also about a construction of a healthy sexual relationship with their partners.
December 2018, Sohag, Egypt
Dr. Mawaheb al Mowelhy is giving a seminar on the negative consequences of Female Genital Mutilation to the women gathered in a clinic located in an urban poor community in Cairo.The gynaecologist, after completing her PHD in Harvard, came back to Egypt where since 1994 she fights against the practice of female circumcision. Despite the criminalisation of the procedure and connected efforts of authorities, NGOs and even religious leaders, in some areas up to 80% of women are still being circumcised. After several cases of deaths of young girls after unsafe procedures, FGM has recently been mostly provided by medical practitioners who financially benefit from the situation. December 2018, Cairo, Egypt
Magda (right) and Abir (left) are neighbours living in a slum area in the central Cairo. Magda works at a local gynaecological clinic and she tries to convince people around her against FGM. Abir however is planning to circumcise her 12 years old daughter. In traditional communities clitoris is perceived as source of desire and excitement; thus; it is necessary to cut it off for the girls to remain morally correct. December 2018; Cairo; Egypt
According to UNICEF's report from 2016; Egypt has around one million street children in Cairo and Alexandria alone. Among them 93% admit to being victims of harassment or abuse from other children or even the police. Negligence; child abuse; disrupted families; poverty; crime among relatives or sexual violence; are among main risk factors for children to end up on the streets. January 2019; Cairo; Egypt
Kawther (43) stayed in a toxic, abusive relationship with her ex husband for more thank 20 years for her three children. She was beaten, forbidden to work and leave the house without permission and cheated on for several years.When she got pregnant for the 4th time, he asked her to get rid of the pregnancy. They went to a doctor together and later to the Al-Azhar for a religious fatwa that was going to convince their doctor to provide the procedure. She was crying the whole way to and from Cairo and on her way to the hospital where she was afraid to die as the Allah's punishment for what she was going to do.A few days after the procedure she went to his family house to collect her things.While she was still bleeding after her abortion, she was severely beaten and kicked in her stomach by her husband and his other woman. A few days later she has finally filled out the paperwork asking for a divorce in court. January 2019,Alexandria, Egypt
Single mothers living in the slum area of El Gayara district often gather together in the reception centre of a local help organisation. Some of them work there as cleaners, others participate in courses during which they aquire new skills like sewing or pottery, supposed to help them improve their income. All of them are the main providers for their families, some live with their handicapped partners, others were abandoned by their men after giving birth to their children. January 2019, Cairo, Egypt
The year 2017 was declared a "Year of the Woman" by the Egyptian president El-Sisi. In 2018 posters from a campaign against sexual harassment, financed by the Ministy of Health together with the UNFPA organisation are visible in the main Cairo metro stations.The poster lists lack of education, underage marriage, work, too many children, harassment, negative habits and people's opinions as the main obstacles for women gender equality in Egypt. November 2018, Cairo, Egypt
Nora had an abortion a few months ago, she is not married and still lives with her family. Her father can be quite violent sometimes. They had a fight and she had to cancel our meeting. Nada already has two kids, she had an abortion a few months ago, but her husband doesn't know that. She did not manage to go out for a meeting without annoying him. Ghadeer had two abortions, the first one was forced by her boyfriend who didn't want to become a father. We met twice but she was too afraid to have her photo taken. Asmaa had an abortion a few years ago and since she became very engaged in the feminist movement, but after speaking to me on the phone, she also was too afraid to meet. January 2019, Cairo, Egypt
In Egypt, under the country's Penal Code, abortion is illegal in all circumstances, unless the pregnancy threatens the mother's life, however, the religious fatwas permit to perform the procedure in certain cases. This grey-zone situation creates a fruitful business for multiple medical practitioners who abuse their patients, going as far as asking for sexual favours and rape women in return for their assistance.
Sexual violence and harassment are not strange to most Egyptian women, as more than 95% report having experienced some kind of gender-based violence in their lifetime. As women are often being blamed even for rape, honour crimes are still common in Egypt. After bringing disgrace to her family, a woman is under the threat of being rejected or even killed by those close to her. The situation drives thousands to clandestine abortion in order to hide their sexuality and preserve their lives. Therefore, single mothers or those who become pregnant as a result of rape have no choice but to seek solutions such as self-induced or clandestine abortions or abandoning their previous life, becoming cast away from their communities and remaining in the margins of the society.
Since the beginning of Abdel Attah El-Sisi presidency in 2014, several women rights organizations were forced to dissolve, placed under observation or threatened in various ways.
Some names and locations in the report have been changed.